©
http://ottersandsciencenews.blogspot.ca/
.
Unauthorized duplication of this blog's material is
prohibited.  
Excerpts and links may be used, provided that full credit and link is given to Otters and Science News Blogspot. 
Link to this post:
http://ottersandsciencenews.blogspot.ca/2017/12/animal-lives-matter-people-continue-to.html
 - Thank you for visiting my blog.
~~~~~~~~~~~~~~~~~~~~~~~~~~~~~~~~~~~~~~
Catastrophes happen several times a year,
but we have NO PLAN to save animals.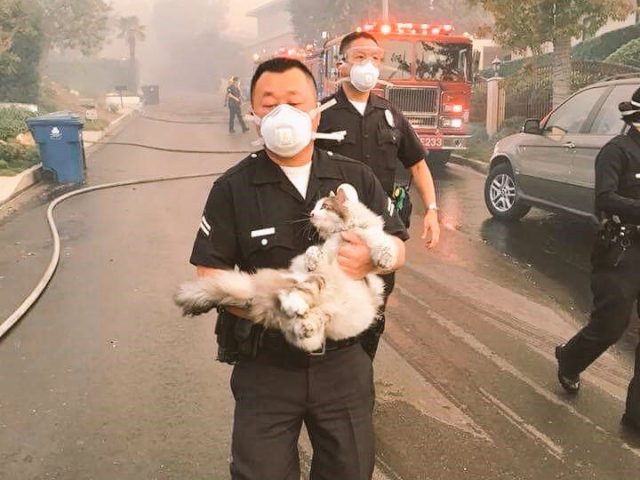 Los Angeles Police Department officers, Los Angeles Fire Department firefighters, and local volunteers have been working feverishly to save animals at risk from ongoing fires in the region.  People are urged to leave water for fleeing animals, and to keep pets indoors.
It happens with heartbreaking regularity.  Whether floods or fires, people abandon their pets and other animals to their fate.  

This year alone there have been several hurricanes and major wildfires, and yet, there is no national plan to deal with the most helpless victims:  domestic animals.

If you live in a fire- or flood- or hurricane-prone zone, you know that the time may come when you'll only have seconds to get into your car and flee, not enough to get your pet or to release your horses and other animals.  

You may have an evacuation plan for you and your loved ones, but animals are often not even listed on emergency lists.

 
I don't know what the cattle industry or horse owners think would be the best way to give animals a chance for survival, but SOMETHING MUST BE DONE!

   

They would have trucks and drivers available, with additional ones borrowed from non-affected regions, in order to transport the animals to safety.

  

In the case of pets left behind, there could also be a reliable organization that could be tasked with rescuing those left behind by their panicked owners.

  

Hundreds of horses and other domestic animals have died horrible deaths burning alive in these southern California fires because their owners left them locked in their barns.  See the horrible aftermath in images by the Daily Mail.

   
Animal owners have the SACRED TASK of caring for animals in their charge.
HORSES LEFT TO DIE AT PADILLA RANCH IN SYLMAR
The Padilla Ranch in Sylmar was torched by the Creek wildfire in the early hours of Tuesday morning
Almost half of the 60 horses which are boarded on the ranch perished as the flames took hold 
The ranch owners live nearby but were forced to evacuate their homes and leave the area 
The returned on Wednesday to find 29 carcasses and others which survived but were badly burned
Creek is just one of five devastating wildfires which continues to ravage Southern California
As of Thursday, almost 200,000 people had been evacuated and almost 300 schools were closed
Continue reading,

including PETA's tips for evacuating with pets